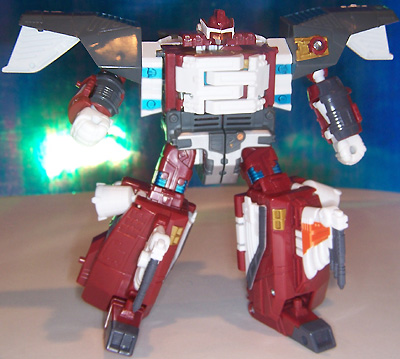 Hello I'm Jetfire
Hello , my name is Jetfire I'm a Autobot.My leader is Optimus prime.
The Autobos is a group of robots .We like to find the ''Ciberkeys'' to closed the Black Hole.
The Decepticons are a group of bads robots.Their lider are Megatron.
I'm the protector of the Earth.
My best friends are: Bud(he's a human)Lori(she's a human)Coby(he's a human)Kiker(he's a human)Misha(she's a human)Alexis(she's a human)Rat(he's a human)Hotshot(he's a robot)Scattershot(it's my right hand)Leobreacker(he's a robot).
My favourite food is the Energon(it's the only food of the robots)
I have many friends:Scattorshot , Ironhide, Override,Landmine,Inferno ( later is Rot Block) , Wing Saber , Smoeascrea, Evac, The minicons:Jolt , Reverb , Six-Speed; Omega Supreme, Vector Prime ....
The treacherous is Scourge,Mat-flat and Shireways.